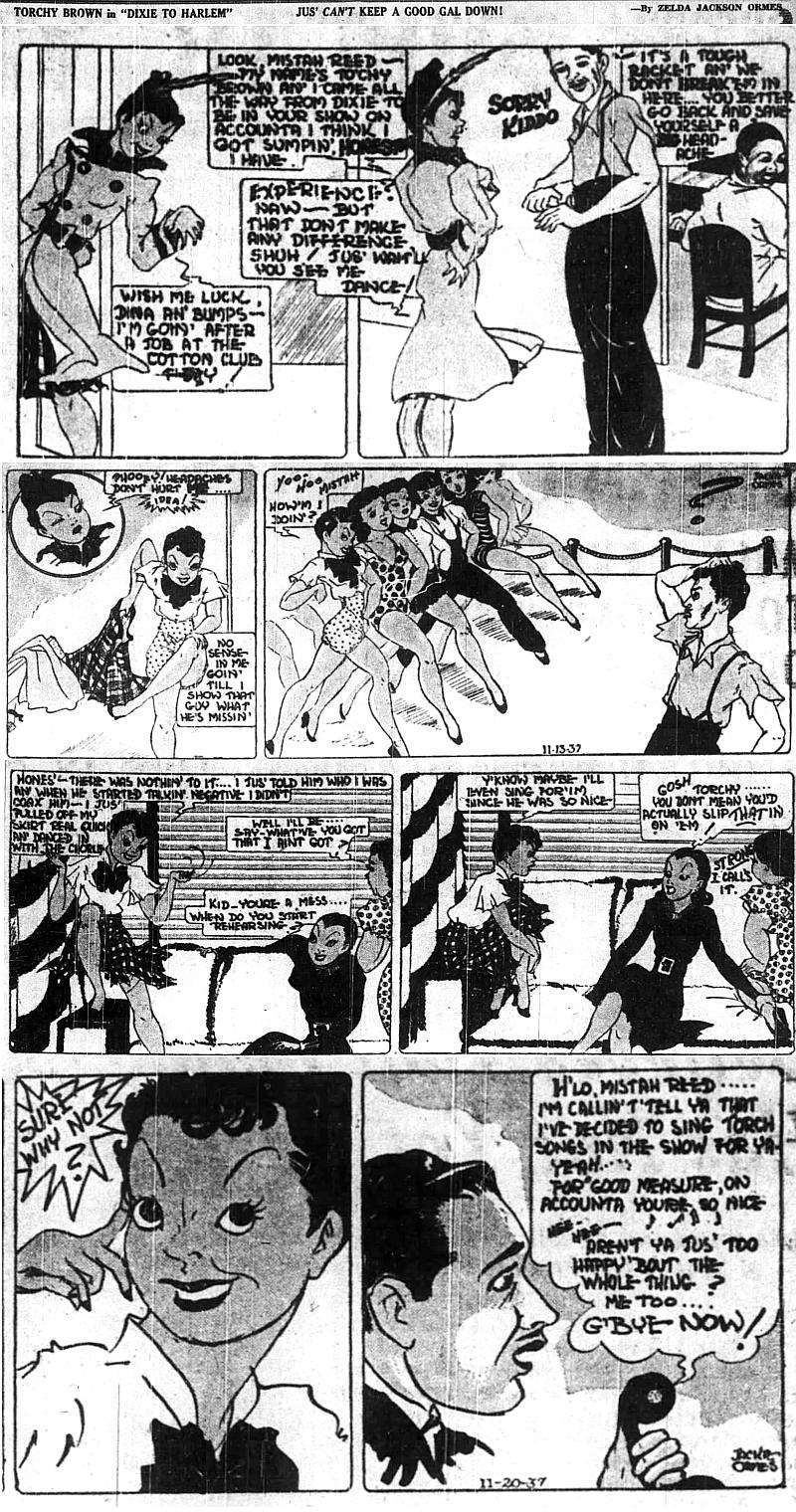 Torchy Brown in From Dixie to Harlem
Note: Because Torchy Brown in From Dixie to Harlem was a newspaper comic strip and this webcomic is setup for comic book style pages some reformatting had to be done. The strips have been cut into individual panels and presented two strips per page. Also, because of the quality of the scans I am providing a transcript of each panel at the end of this commentary.
The next Golden Dame to be spotlighted is Torchy Brown and she represents many important firsts. Torchy Brown is the first comic strip character spotlighted here on the Golden Dames Project. She's also the first character a reader specifically requested.
More importantly, Torchy Brown is the first known African-American woman to headline her own comic strip and her adventures were written and illustrated by Jackie Ormes (credited in these comic strips as Zelda Jackson Ormes), the first publicly known female, African-American cartoonist.
Torchy Brown in From Dixie to Harlem ran in the Pittsburgh Courier, a weekly African-American newspaper from May 8, 1937 to April 30, 1938. The Courier published a total of 53 Torchy Brown strips during that time. The strip chronicled the adventures of Torchy Brown as she moved from the deep south to Harlem in New York City. In Harlem she gained employment as a performer at the legendary Cotton Club, a whites only nightclub that featured primarily African-American entertainers.
In 1937 Torchy Brown was something of a revolution, both as a woman and a person of color. Torchy was clever, outspoken and wouldn't take no for an answer. In a time when women and people of color were generally only in comic strips as stereotypes Torchy was a career woman out to conquer the world with intelligence, charm and one hell of a fashion sense.
From Harlem to Dixie ended in 1938 on something of a cliffhanger that was never resolved. Ms. Ormes wasn't done with Torchy Brown, however. The character would be revived for a new, full color comic strip in 1950 entitled Torchy in Heartbeats.
The two Torchy Brown strips presented today originally ran on the 13th and 20th of November, 1937. They chronicle Torchy's adventure as she gets her first job at the Cotton Club.
Transcript
Panel 1
Torchy: Wish me luck, Dina an' Bumps – I'm goin' after a job at the Cotton Club today!
Panel 2
Torchy: Look, Mistah Reed. My name's Torchy Brown an' I came all the way from Dixie to be in your show on accounta I think I got sumpin'. Honest I have.
Torchy: Experience? Naw. But that don't make any difference, shuh! Just wait'll you see me dance!
Mister Reed: Sorry kiddo. It's a tough racket an' we don't break 'em in here... you better go back and save yourself a headache.
Panel 3
Torchy: Phooey! Headaches don't hurt me... idea!
Torchy: No sense in me goin' till I show that guy what he's missin'.
Panel 4
Torchy: Yoo-hoo mistah. How'm I doin'?
Panel 5
Torchy: Hones'. There was nothin' to it... I jus' told him who I was an' when he started talkin' negative I didn't coax him – I jus' pulled off my skirt real quick an' danced in with the chorus.
Bumps: Well I'll be... say, what've you got that I ain't got?
Dina: Kid, you're a mess... when do you start rehearsing?
Panel 6
Torchy: Y'know maybe I'll even sing for 'im since he was so nice.
Dina: Gosh Torchy... you don't mean you'd actually slip THAT in on 'em!
Bumps: Strong I calls it.
Panel 7
Torchy: Sure. Why not?
Panel 8
Torchy (by phone): H'lo, Mistah Reed... I'm callin' t'tell ya that I've decided to sing torch songs in the show for ya. Yeah... for good measure on accounta you're so nice. Hee hee. Aren't ya jus' too happy 'bout the whole thing? Me too... G'bye now!