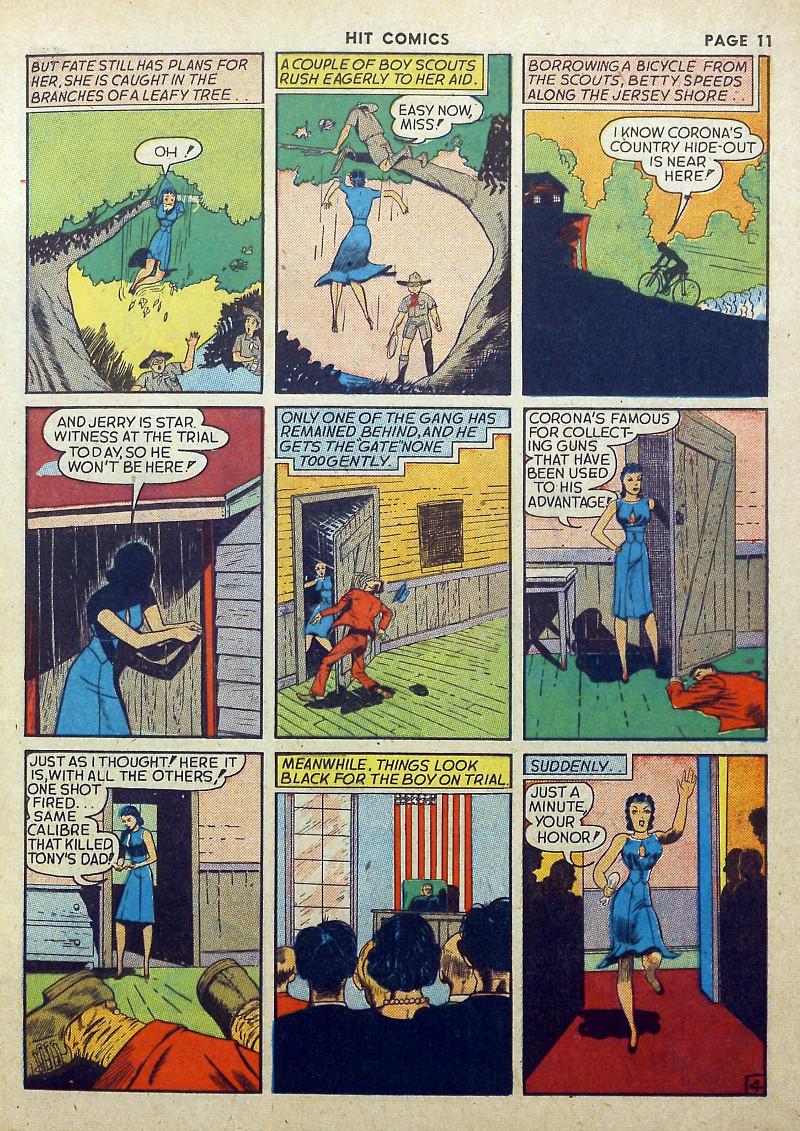 This Betty Bates, Lady-at-Law story was printed in Hit Comics #5 (cover date: November, 1940), published by the Quality Comics Group.
Like most comic books of the day, Hit Comics was an anthology title. Each issue would feature between six and twelve comic stories, each showcasing a different character. A story could be as short as a single page or run as long as a dozen. Stories in Hit Comics were usually self-contained rather than serialized. Betty Bates had one adventure in issue #5 and another in issue #6 and still another in issue #7. A Betty Bates tale never ended with the words "to be continued". Instead, readers were told Ms. Bates would be solving another thrilling case in the next issue.
Hit Comics had a sixty-five issue run that lasted from June 1940 to June 1950. It started out as a monthly comic but quickly switched to bimonthly. During US involvement in World War II, perhaps due to paper rationing, Hit Comics switched to a quarterly schedule. Finally, after the war, Hit Comics returned to a bimonthly schedule which Quality kept until the final issue.
Since it was an anthology book, a number of characters were featured on the cover of Hit Comics over the years - none of them Betty Bates. The original cover star of Hit Comics was the Red Bee, a Lou Fine creation. Like Betty Bates, the Red Bee was a lawyer in his civilian life. However, when the law wasn't enough, the Red Bee he donned on a bright red and yellow costume, grabbed his stunner gun and fought crime with the help of his pet bee Michael. Michael lived in the Red Bee's belt.
Other characters that graced the cover of Hit Comics include Neon the Unknown, Hercules (not the Roman/Green demigod but a mortal using his name), Stormy Foster the Great Defender, Kid Eternity and riverboat man Jeb Rivers. Red Bee, Neon the Unknown and Kid Eternity have all been revived and used in the modern day by DC Comics.
Red Bee and Stormy Foster the Great Defender are notable because some stories were written by Toni Blum, one of the few known female writers in comics at the time. The Golden Dames Project will be spotlighting Ms. Blum's work down the road.